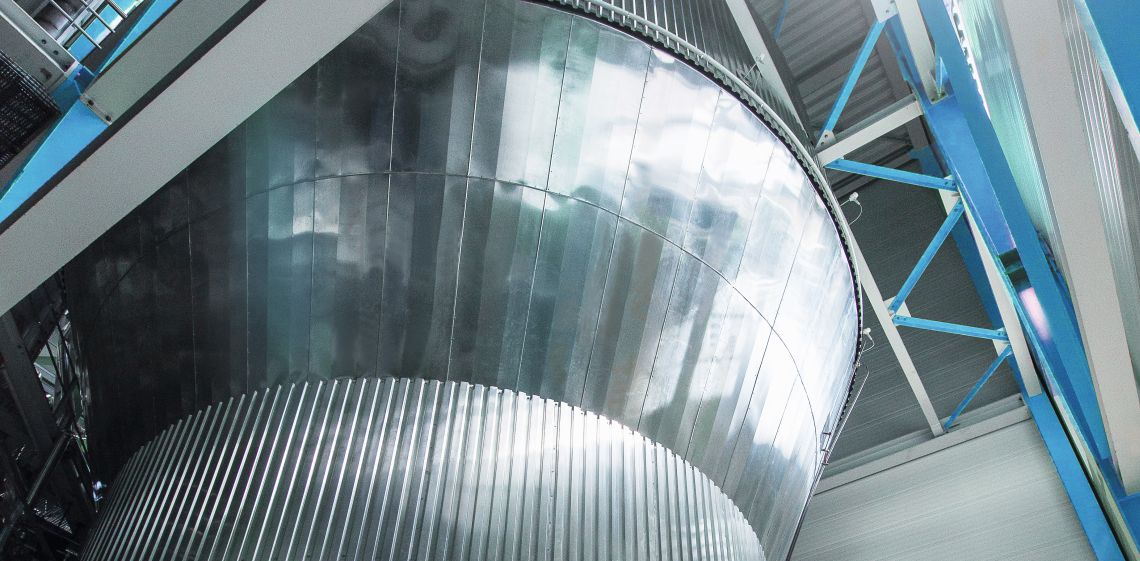 BMA WVT: fluidised-bed steam dryer
Optimised for a factory's energy balance.
Fluidised-bed steam dryers (WVT) from BMA dry the pressed pulp produced in beet sugar factories to obtain a dry substance content of about 90 %. Use of a WVT can also make ecological sense with other types of biomass.
The elements needed for the technological process in a WVT are neatly arranged in the compactly designed dryer. A fluidised bed of pulp forms around the heat exchanger (5), which is positioned centrally in the circular space and supplies the heat required for evaporation. A fan (6) below the heat exchanger generates the necessary circulation flow of the steam, which then flows upwards through a distribution plate into the fluidised bed. This is divided into several connected cells (2). The pressed pulp is fed into the first cells by the product feed system (1). It then passes through the remaining cells right up to the penultimate cell in a fluidised state. The last cell serves to receive the dried pressed pulp and dust from the rotary separator (4). From there, they are discharged directly into the expansion cyclone via a discharge screw and lock.
1) Input; 2) Cells and fluidised bed; 3) Discharge; 4) Dust separator*; 5) Heat exchanger; 6) Fan
* Dust separator with inlet openings exclusively in the lower part.
Fluidised-bed steam dryers (WVT) from BMA are fully enclosed pressure vessels with a circular footprint. They can be partly or fully integrated into a factory building. With our updated size range, we can offer a portfolio of WVT that are tailored to the beet processing rates of today's sugar factories. What affects the water evaporation rate most is the level of heating steam pressure available. The technical design of our standard sizes can to some extent be tailored to special operator requirements.
1) Determined by the infrastructure on site; without insulation; exact dimensions when order is placed. 2) Discharge lock 3) Feed lock

| | | | | | |
| --- | --- | --- | --- | --- | --- |
| Approx. dimensions 1) in mm | WVT6 | WVT7 | WVT9 | WVT10 | WVT12 |
| Cylinder diameter (D) | 6,500 | 7,500 | 9,000 | 10,500 | 12,000 |
| Overall height (H) | 19,500 | 20,500 | 23,500 | 25,000 | 32,500 |
| Connection height (DL) 2) | 3,500 | 3,500 | 3,000 | 2,000 | 2,000 |
| Connection height (FL) 3) | 10,500 | 11,000 | 12,000 | 13,500 | 15,000 |
High fluidisation rates already in the first cell thanks to product conditioning (heating and segregation) before pulp enters the fluidised bed.

Large input area results in a stable fluidised bed.

Minimum steam losses during product feeding and discharge thanks to lock technology from BMA.

Optimum filling level and excellent performance of the WVT thanks to the controlled rotary weir.

Integrated, highly effective dust separator for circulation vapour, with inlet openings exclusively in the lower part.

Improved, highly efficient fan.

Drying in an inert steam atmosphere minimises oxidation and combustion of pressed pulp.

Thanks to the gentle drying process, the nutrients in the pressed pulp are largely preserved.
Plug protection sensory system and combined automation system to prevent blockages of the distribution plate.

Improved distribution plate permits quick restarting of the WVT and fluidisation of pressed pulp even after prolonged downtimes (power cuts). This prevents manual discharging and even longer downtimes.

Vertical design of the WVT gives it a smaller footprint than conventional dryers.
Energy recovery through vapour use reduces the need for primary energy compared to conventional drying methods.
Please refer to the product brochure for more detailed information. We would also be happy to advise you in a personal consultation.