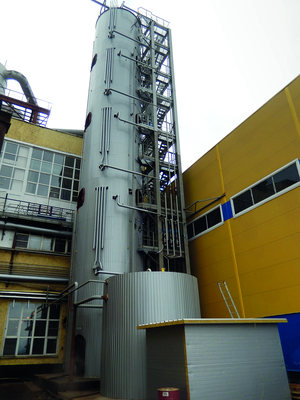 Up-to-date technologies for better performance
As reported in last year's BMA Info (53/2015, p. 40), BMA Russia had submitted the winning bid in a tender by agroindustrial group Rusagro. The project entailed reconstruction and extension of the Znamensky sugar factory. At the end of August 2015, the new equipment was commissioned as scheduled, in time for the beet campaign.
In the first stage of reconstruction of the sugar house, a new vertical continuous pan (VKT) for the crystallisation of B-product massecuite was installed. With this new VKT (31 m high, 4.4 m diameter), the sugar factory's capacity has been increased from 6,000 to 8,000 t/d.
In addition to the improved performance, the new equipment also offers other benefits. The VKT will be operated with affination magma as seed massecuite. This is produced from C-product sugar and A-product green syrup. As a result, no batch pan is needed for the seed massecuite of B product, and steam consumption in the sugar house is lowered; it can be even further reduced, since the VKT is heated with exhaust steam from the 4th evaporator effect.
The results speak for themselves. In the first ten days of the 2015 beet campaign, the crystallisation effect of B product in the continuous crystallisation was at 13.5 to 14.5 %. This is almost twice the level achieved with the factory's older batchtype equipment.
Comprehensive project management
In addition to the supply and assembly of the VKT and development and implementation of the automation system for the complete sugar house, project management accounted for the lion share of the work. Under an EPCM agreement, BMA Russia took on all related tasks. VKT commissioned at Znamenka Successful project completion for BMA Russia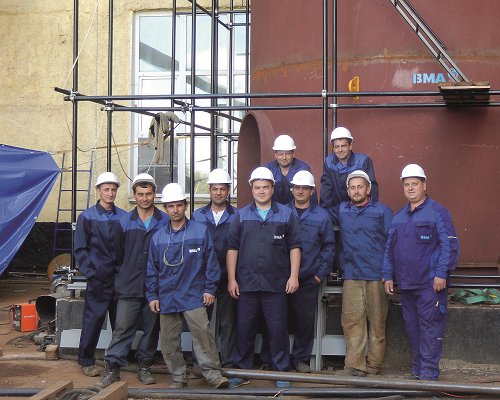 Engineering and project management services by BMA Russia
Engineering of the sugar factory areas to be reconstructed.
Compilation of technical specifications as a basis for the call for tender for construction, assembly and electrical work, and for work on the automation system for the sugar factory sections.
Tender-related tasks such as shortlisting potential suppliers and subcontractors, issuing calls for tenders, organising negotiations and signing purchase agreements on behalf of the customer.
Management of projects and subprojects by a dedicated team in the offices of BMA Russia and directly on site. Team composition: one project manager and a group of experts for each of these stations: sugar house, boiler house, pulp press and drying plant, extract cleaning station, beet washing system, beet storage and conveying, beet processing, wastewater treatment, lime and gas treatment, and silo.
Management and coordination of work carried out by contractors and subcontractors from Russia, Ukraine and other European countries.
Project controlling for budgets, deployment of resources and scheduling, for each station and throughout the project.
Assembly supervision, commissioning services and acceptance of all deliverables for each station and the entire factory within the agreed deadline.
Fedor Semenov
BMA Russia
assistance(at)bma-ru.com