Every old piece of equipment has to be replaced eventually. The reasons to name a few may be maintenance cost, capacity increase or process improvements.
More efficient equipment made in Germany
The last few years have seen an increased interest of the US sugar beet industry in the modernisation of their aging extraction systems. In March 2015, Michigan Sugar Sebewaing, MI made the decision for a new counter current cossette mixer, defoamer and cossette pumps.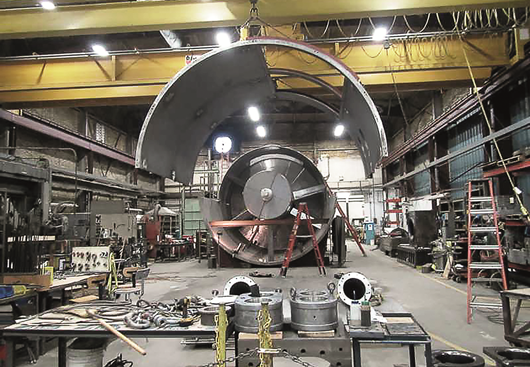 Welding of upper and lower trough (Photo: Sebewaing Tool & Engineering)
The mixer is 5.2 m in diameter and 8.0 m long and has an operating range of 4,800 to 8,000 sht/d at a maximum draft of 120 %o.b. The low limit is determined by the failing heat exchange with minimum cossette load and consequently warm raw juice. The high limit is given by a maximum cossette load in the cross section and high juice flow through the screen. A cossette mixer has two functions. In a first area it is a heat exchanger which improves the heat economy of the extraction system and reduces the steam consumption for the factory. It uses the hot raw juice from the extraction tower to pre-heat the cold cossettes which are densely packed through internal flights and stops. In a second area the cossette mixer loosens up the dense cossette pack to produce a pumpable cossette/juice mixture which is pumped through cossette pumps into the extraction tower. The cold raw juice leaving the CCCM also helps to prevent infections.
The manufacturing of the cossette mixer was executed by BMA Germany. The partially assembled mixer arrived in Sebewaing by end of December 2015. The final assembly of the upper and lower trough and the end plates, which requires welding, was done off site close to the factory. Final installation will take place in June 2016. This should be a relatively easy task because the mixer will already be fully assembled and can slide into its nal location in a new annex to the main factory building. Commissioning is scheduled for August 2016 at the start of the 2016/2017 campaign.
Hans Schmidt
BMA America
hans.schmidt@bma-us.com