In July 2015, the Western Sugar Cooperative ordered tower extensions for their extraction plants at Fort Morgan, Colorado, and Scottsbluff, Nebraska, from BMA. Together, BMA America and BMA Germany will keep the project running smoothly.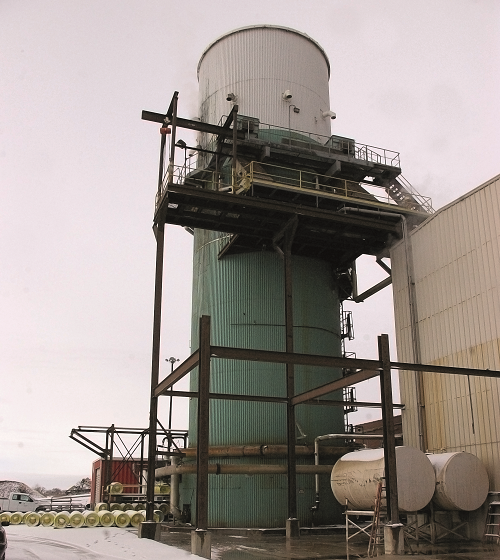 Higher throughput and a state-of-the-art control system
The two existing extraction towers were also BMA-made. Each stands 17.92 m high, with a diameter of 8.6 m. To achieve target slice rates of 7,250 and 8,250 sht/d respectively, the Fort Morgan tower will be extended to a total height of 20.38 m and the Scottsbluff tower to 21.61 m. The extensions at both factories will result in a higher capacity, with a reasonable cossette loss and a low draft. With a 5.6 m diameter and a length of 8.0 m, the existing countercurrent cossette mixers are sufficient to produce cold raw juice at the new slice rates. The cossette pumps will be replaced, however, to handle the larger flow. In a second step, BMA will upgrade the drive control and automation systems. The single variable-frequency drive (VFD) for all bullgear motors will be replaced by individual VFDs with master-follower software. The VFDs are connected with fibre optics and monitor and control each other through this link. This configuration ensures that all motors are synchronised and the drive power is distributed uniformly. The automation system is based on Rockwell hardware for easy communication and to accommodate the factory standard.
Transatlantic cooperation
The project management and manufacturing for this project are performed by BMA America in Greeley, Colorado. Circumstances could not, in fact, have been any better, because their offices and workshops are located almost next door to the two sugar factories. BMA Germany will provide key standard components such as the additional drives for the bullgear and cossette pumps, as well as engineering support. And BMA America will perform the installation supervision through their experienced resident extraction system experts. Commissioning is scheduled for August 2016, assisted by a BMA team of process and automation experts from both sides of the Atlantic. This project demonstrates very nicely how the significant local footprint of BMA America with sales, engineering and manufacturing combines with the experience and backbone of the German parent company, benefiting all BMA customers in the Americas.
Hans Schmidt
BMA America
hans.schmidt@bma-us.com