Nowadays, cane sugar factories are increasingly marketing their by-products based on regional demand. The focus is on the co-generation and sale of surplus electricity from bagasse, which is burnt in highly efficient boiler and turbine plants. The implementation of low-energy concepts requires the use of falling-film evaporators, which are the state of the art in the beet sugar industry.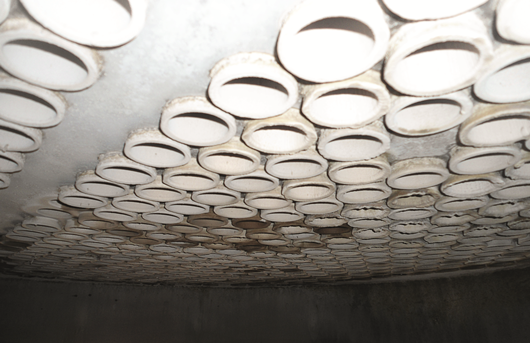 Easier removal of scale
There are still reservations against the use of falling-film evaporators in cane sugar factories. The most frequent reason given is scale formation in the evaporators, which then require cleaning. Cane sugar factories mostly use Robert evaporators, which are easy to clean by hand (either mechanically or using a high-pressure water jet). With falling-film evaporators, the reduced heat transfer resulting from scaling is a particularly serious problem. These evaporators are designed to operate with small temperature differences between the heating steam and the vapour.
Beet sugar factories use either anti-scaling agents or softeners for the thin juice. As a result, no cleaning is required during campaign operation. But in cane sugar factories, scaling is impossible to prevent, because of the standard juice purification methods used. It is therefore necessary to regularly clean the heating surfaces after a set operating time. This can be done mechanically, with a high-pressure water jet, or chemically. Sometimes a combination of chemical pre-cleaning and final cleaning with a high-pressure water jet is used.
The falling-film evaporators for cane sugar factories supplied by BMA are designed to permit quick and simple regular cleaning, either chemically or with a high-pressure water jet. The choice of cleaning method depends essentially on the scale composition and on the local cost of cleaning agents and staff.

FFE 1 Before cleaning

FFE 1 After chemical cleaning.
Cleaning effect: Very good.
Heating tubes are clean.

FFE 3 Before cleaning

Right: FFE 3 After chemical cleaning.
Cleaning effect: Good.
Heating tubes are mostly clean.

FFE 5 Before cleaning

FFE 5 After chemical cleaning. Cleaning effect: Poor. Heating tubes still covered in scale. Additional cleaning with a high-pressure water jet required.

Flagship project in India
A new 5-effect evaporator station consisting entirely of BMA falling-film evaporators was built in one of Indian Cane Power Ltd. (ICPL)'s cane sugar factories in India. The general conditions to be taken into account result from the traditional cane-end operation of a cane sugar factory, comprising liming, clarification aided by flocculants (phospho-defecation) and a final sulphitation of the clarified juice. The produced sugar is marketed as "Plantation White".
In the first effect, mainly calcium phosphate scale forms, because of the juice purification process used. In the other earlier effects, there is mainly calcium sulphate scaling, while, in the later effects, significant shares of silica form as well. This scale composition is typically found in evaporators in the cane sugar industry. With an adapted cleaning process, stable operation of the falling-film evaporator station is possible, with relatively long operating times between cleaning intervals. In effects 1 to 3, good cleaning results can be achieved with a combined alkaline-acid method, even after up to three weeks of operation. In effects 4 and 5, the scale is considerably more resistant to cleaning, because of the silica content. After chemical pre-cleaning, the scale is sufficiently pre-treated to permit simple and effective cleaning using a high-pressure water jet in the factory. The scale found in the later effects is significantly thicker than in the earlier effects. The later effects therefore have to be cleaned at considerably shorter intervals – roughly every ten days at ICPL.
With this customised cleaning process, operation of the falling-film evaporator station remains stable for a relatively long time between cleaning intervals. At the evaporator station's first stage of expansion, the specific steam consumption for sugar production ranges between 30 and 33 % o.c., depending on the level of scaling. With an enlarged heating surface through addition of further falling-film evaporators, steam consumption now remains well below 30% o.c.
Benefits of falling-film evaporators from BMA
Stable operation of falling-film evaporators also in cane sugar factories
Cleaning concept for evaporators can be customised and optimised
Choice between chemical cleaning and cleaning with a high-pressure water jet
Falling-film evaporators are optimised for both cleaning methods
Sustainable achievement of energy-saving targets
Dr Andreas Lehnberger
BMA AG
engineering@bma-de.com