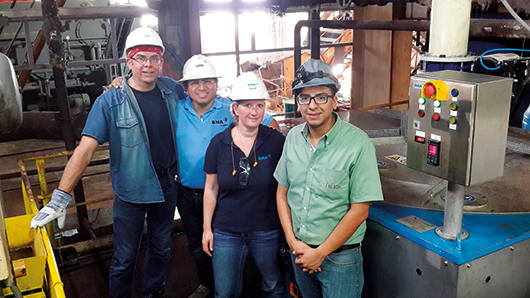 Orders from around the globe
There is one exception, admittedly: Antarctica remains a blank space on the map of the world. But everywhere else across the globe, centrifugals from BMA are still the popular choice, for long-term customers and first-time buyers alike.
One such example of a new customer is the Ingenio Jiboa sugar factory in El Salvador. The factory wanted to upgrade its centrifugal stations. One key factor in Jiboa's buying decision was energy efficiency. In a first step, the customer opted for a K3300 continuous centrifugal, for C-product processing. The machine was commissioned in December 2014 and has since demonstrated its excellent performance, combining a high throughput with low energy consumption. What has been particularly impressive is the smooth running of the machine.
The latest generation of batch-type centrifugals from BMA, its E series, has also attracted new customers, such as the Santa Cruz factory in Brazil, who was given first-hand evidence of the E1810's efficiency during the 2014 campaign. Installed alongside current competitors, the E1810 scored especially with simple and low maintenance, a high processing rate, and its efficiency. It received special praise for easy handling and reliable operation.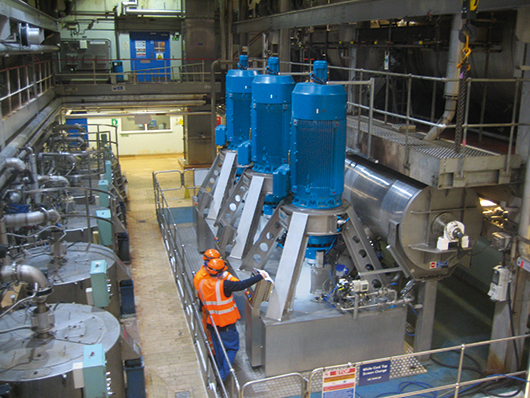 BMA centrifugals are also well known for their durability. It is not rare, in fact, for them to be in operation for 40 years or even longer. Having had BMA centrifugals running successfully for over 30 years, one Australian customer decided to buy a new K3300. This single new machine has replaced three of his older continuous centrifugals. The state-of-the-art K3300 machine from BMA is used for the processing of C-product. In addition to a high throughput, our customer's main requirement was maximum crystal preservation, which is why he also chose the optionally available deflector. In operation, excellent crystal preservation is achieved, which fully meets his requirements.
This customer was also won over by the flexible options for process optimisation the K3300 offers, such as the accurate and separately controllable wash water application or the highly efficient Turbo3 product distributor. This helps achieve, for instance, a minimal difference in purity of only 0.6 percentage points between the mother liquor and the molasses. It is therefore hardly surprising that our customer has been perfectly happy with his K3300 since it was commissioned in summer 2014.
One Indonesian customer is already using our batch-type B-series centrifugals. Given the positive experiences with this in production, the decision was made to install a total of five new E1810 as part of another factory upgrade.
Made in Germany
Around the globe, the label "Made in Germany" is synonymous with high quality. One factor that is particularly relevant with centrifugals is that they have to withstand extremely high loads during operation. Any defects or malfunctions can result in great material damage, and, in the worst possible case, even in fatalities.
To prevent this, high product quality and the operational safety of our centrifugals are top priorities for BMA. This is reflected, for instance, in the sophisticated machine design, which is also based on the latest guidelines and methods such as the FKM Guideline and FEM (finite element method). Extensive quality tests during manufacture include, for instance, material certificates, a 100 % weld seam inspection of the baskets with an inspection log, and a test run including vibration measurement.
Running an international business for BMA means being near our customers, wherever they are in the world. Which is why, in addition to its global service network, BMA has decided to set up assembly workshops in Brazil and China, to best meet local requirements. Safety-critical core components such as centrifugal baskets will still be manufactured at our main site in Braunschweig, Germany. They are also subject to our stringent quality tests. This is our way of safeguarding the wellknown quality of our centrifugals, each one of them "Made by BMA".
Speed and fast response times
Where single machines are concerned, speed is often of the essence. And fast response times are just as important as rapid delivery. At the same time, operators would like these machines, too, to be perfectly tailored to their individual situation and requirements. We have thought about solving this apparent contradiction – and have developed a modular range of centrifugals and massecuite pumps.
Starting with a basic model, customers can add standard options to obtain the perfect solution for their individual requirements. The vast range of variants comprises different model sizes and materials, and even a range of process options. This allows us to offer you, our customers, short delivery times while remaining flexible enough to respond to your specific needs. It goes without saying that, where our well-known quality is concerned, we make no compromises. That applies equally to our products and our expert consulting services: for you, it means that you can always rely on BMA's extensive process expertise.
Silke Stiegert
BMA AG
silke.stiegert@bma-de.com