A good cooling and drying system is the key to high sugar quality. Reason enough for BMA to continuously enhance this equipment, launching new and innovative products on the market.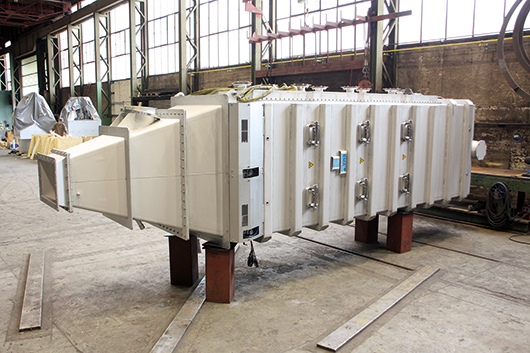 Vertical, not horizontal
BMA's conventional horizontal coolers already use air to provide an additional cooling effect for the water cooling system. Air fluidises the finished product and also removes any residual moisture released.
As an alternative, BMA first installed its prototype of a vertical fluidised-bed cooler (VFC) in a customer's plant in 2009. This concept has clear benefits: the vertical cooler variant requires far less air, while absorbing the same amount of residual moisture. The higher the air inside the fluidised-bed cooler rises, the more its temperature increases and thus its ability to absorb water.
Another benefit of BMA's vertical sugar cooler concept is its small footprint – a definite advantage for factories with limited extra space. The high quality and sturdiness of the VFC, which also came with the promise of clear process improvements, in fact impressed the sugar factory at Imisli in Azerbaijan sufficiently to place an order.
Better quality and a higher throughput
Back in early 2013, we acted as consultants for ETSUN ENTEGRE concerning a new sugar drying plant. The plant used by the factory at the time was no longer adequate in terms of quality or quantity. BMA's outstanding planning efforts helped win the order for manufacture of a drum dryer and a VFC and for VFC automation in December 2013.
This equipment has by now been delivered on schedule; assembly is due to be completed in the first half of 2015. Before assembly started, a BMA Site Supervisor visited the site to discuss the details with the customer. We have also submitted a quote for supply of parts for the drying and cooling system. This will give the plant manager, Mr Ferhat Tugal, cost certainty right from the start, saving him any unpleasant surprises.
The new plant will help increase the throughput from 40 t/h to up to 70 t/h. And with the lower temperature and less residual moisture, the sugar quality will also be better. According to our calculations, an outlet temperature of 29 °C and 0.04 % of moisture should be expected.
Abdellah El Hamoumi
BMA AG
abdellah.elhamoumi@bma-de.com