BMA handles not only its own products. Once more, we have repaired and also significantly improved extraction towers for beet processing erected by a competitor.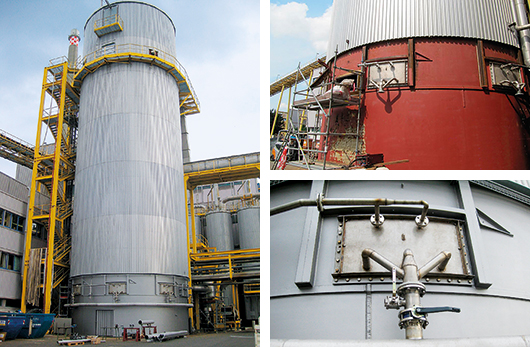 When part of a plant becomes defective during the campaign, what is needed is quick help. This is precisely what happened at Su?dzucker's plant in Zeitz, in the German state of Saxony-Anhalt. BMA helped in the emergency repair of an extraction plant – and was subsequently awarded the contract for extensive repair and optimisation.
Based on our optimisation concept for the extraction tower at Zeitz, we carried out the structural calculations and implemented the concept within the agreed time frame. The improved tower was commissioned in September 2014 and its performance was significantly enhanced with the installation of additional screen area. Higher throughput provides greater reliability, and with reduced extraction losses, output has increased.
While the optimisation project was running in Zeitz, we also repaired another BWS extraction tower for one of our Swedish customers. We optimised this machine based on the BMA system by installing conveying flights and stops. These two cases show clearly that all BMA customers, wherever they are in the world, can benefit from our extensive knowledge and decades of experience gained in the construction of over 400 extraction plants – whatever the manufacturer.
Hartmut Stolte
BMA AG
hartmut.stolte@bma-de.com

Thomas Schulze
BMA AG
engineering(at)bma-de.com